Hospitality industry machinery such as ovens, blenders and industrial dishwashers, that can be seen at any hotel, are quite prone to causing fires. This is why public authorities demand compliance with a set of regulations in order to protect the safety of persons.
In Europe we can mention, for example, CE Marking; but when exporting to the American continent, HORECA machinery and component manufacturers must comply with a different set of regulations. We are referring to the UL standard, which guarantees their electrical safety. Are you planning to export hospitality industry machinery to America? Don't worry – in the post below we explain everything you need to keep in mind in order to comply with the safety requirements.
UL Directives involve a set of laboratories -"Underwriters Laboratories"- that products must go through for testing of any applicable standards. Once this test has been passed, manufacturers receive a specific UL certificate number.
When evaluating a machine's safety we need to take into account two fundamental aspects. On the one hand, fire and electrical discharge (AHJ), where components, the equipment and its installation would be analysed, and on the other, health and workplace safety. The following graph summarises all relevant information on machinery safety: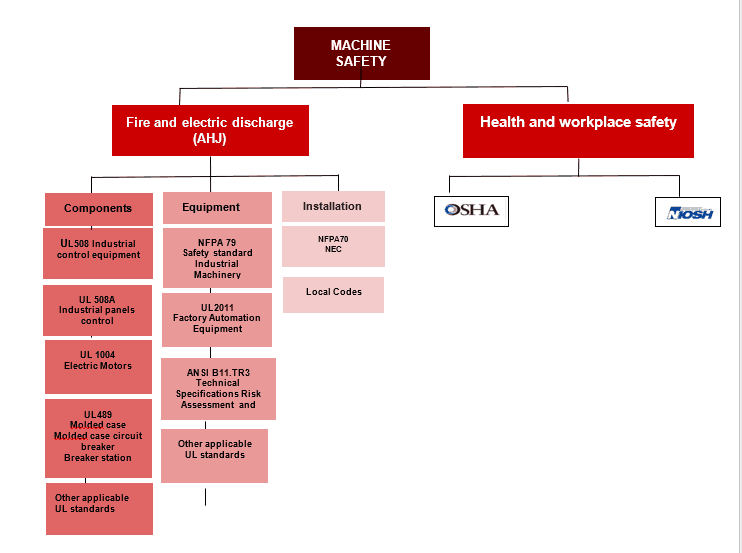 At the time, there are 18 OSHA-certified laboratories in the USA and 26 certified by the SCC in Canada. In addition, there are a few that are recognised in both countries, such as: UL International, Entela, Intertek Testing (also known as ETL Semko), MET Laboratories and TUV.
A product carrying the ETL Listed mark implies that it has been tested by Intertek and that it complies with the electric safety standard requirements (UL standards) of the USA and Canada. This shows the commitment of the manufacturer to the safety and quality of its products, and is the fastest-growing safety certification in the North America.
UL Marking
The UL certification deals with components that are defined as "complete equipment" or finished products, with an autonomous application and function. When applied, it contains the name and logo of the manufacturer, with all information in regard to the tests performed and other specifications that are particular to the UL marking itself. This equipment does not require specially-trained personnel for its installation; this is handled by the manufacturer instead, but it is verified by the UL inspector depending on product quantities.
UL Recognized mark
The UL Recognized marking is used in components that do not have a function on their own, but are assembled with other elements or components. A UL Listed marking is valid in the finished product. UL-recognized components are marked only with the manufacturer's name and logo and its type. These components, on the other hand, do require qualified personnel for their installation, as per the guidelines and use limitations set forth by the manufacturer.
The UL Recognized marking only identifies directly the product in the American market, and has no value in Canada.
In order to comply with these standards, Spanish companies that manufacture machinery for the hospitality industry need to work hand in hand with a consulting company that is specialised in certifications related to these legal requirements in order to export to the USA.
More specifically, if the intention is to export and use speed reducers in America, the standards that we should focus our attention on would be UL 508, industrial control equipment certification, and UL 1004, a standard that needs to be complied with by the motor manufacturer.
In this way, IT becomes a trusted partner for companies that manufacture electrical or electronic equipment and components, since it helps manage the risks and complexities related to safety and sustainability in the current corporate environment, exhibiting reliability and certifying its compliance, sustainability, transparency and quality, in addition to protecting the brand's reputation and promoting social wellbeing.
At CLR, which manufactures actuators and speed reducers for HORECA, in addition to aiming to overcome all standards, we strive to improve the competitiveness of machinery not only by manufacturing safer, more efficient, lasting and silent actuators, but also always putting safety and obtaining the seals that certify it first.