An important company of the air conditioning sector contacts CLR in 2010 to design an actuator for the grilles of its air flow control system. It needed to overhaul its systems with a more silent, lighter solution which maintained the highest standards of quality for its air conditioning systems.
These return grilles required an automation which, in addition to modifying the direction of air flow, could guarantee proper operation of the system with the best cost-effectiveness in the market.
What were the main challenges in this air flow control system?
Since the moment our engineers lay the project down on the table, they worked with the purpose of designing a gear motor that was capable of fulfilling all of the client's requirements, offering the highest guarantees of quality, reliability and durability.
The main challenge in this project was designing a gear-based speed reducer system that was capable of limiting noise levels to the highest possible degree. Air conditioning systems commonly work throughout the entire day, and loud noise levels during operation could imply a major competitive disadvantage in the industry.
Another issue was weight. The client needed a lightweight solution that would offer the highest guarantees of safety, especially for tubular air conditioning systems such as the one on this article's image.
High humidity was another issue to keep in mind in this air flow control system. Air conditioning systems always have to deal with this handicap. In order to palliate its effects, specific external treatments were applied to all components: gears, pinions, washers, crown wheels, etc. Their purpose was to improve component and speed reducer response to environmental conditions.
Lastly, the system had to be able to offer precise, two-directional motion for opening and closing the grille. Consequently, this new gear motor had to pass major stress tests, since it was going to be subjected to a major mechanical wear on a daily basis.
What was the solution proposed by CLR's engineering team?
CLR worked on various designs until it manufactured the proper actuation mechanism for the particularities of motion and the requirements specified by the client: automation of an air flow control.
It was decided that a worm gear motor would be used, with the following characteristics:
Lightweight, low consumption
340º angular displacement
Connector designed for the Micro Quadlock Tyco system
Thanks to this entirely customised design, CLR offered a grill actuating solution that was capable of directing and combining air flow with noise levels under 35 decibels.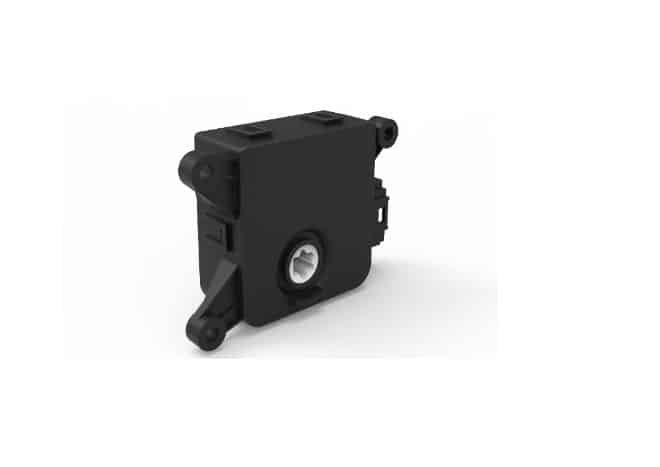 As is the case for every new project faced by CLR, the gear motor was subjected to harsh tests at our quality laboratory: lifespan tests, environmental chamber, etc. All of this with the purpose of guaranteeing delivery of a product of the highest quality and reliability.
Lastly, CLR performed on-site tests together with the client to test the product's performance at their facility before mass production begun. A production that the gear motor manufacturing company has been carrying out ever since at its Ibi (Alicante) plant.
Do you need a breath of fresh air on your air conditioning company's projects? At CLR we develop anything from gear motors capable of moving large, heavy structures to specific solutions that allow for the performance of small motions in constrained spaces. Do you want to learn about some of CLR's projects in the air conditioning industry? Check them all out on our website.