It is no secret that the world of vending is thriving, and that new technologies are the great driver of such growth. Smart vending is getting a strong foothold in Spain, since the customer base is expanding. However, there is still a long road ahead and techniques to improve in the vending sector. Which has prompted us to compile a list of seven new vending and gaming machines that are revolutionising this industry and will certainly serve as an inspiration to keep growing and innovating. 
 1. Comfortable trips with FOAS 160
This vending machine has been designed specifically for the traveller transportation sector. It has an ergonomic, modular structure that allows it to be fitted on the vehicle's doors –with no loss of space- and includes snacks and coffee dispensers, with spirals of moderate capacity which hold up to 28 bottles or cans.
Its manufacturer Frenzel, is betting on the latest vending technologies by including a USB port directly on the machine, which enables the download of sales information, which is stored on a tamper-proof internal database.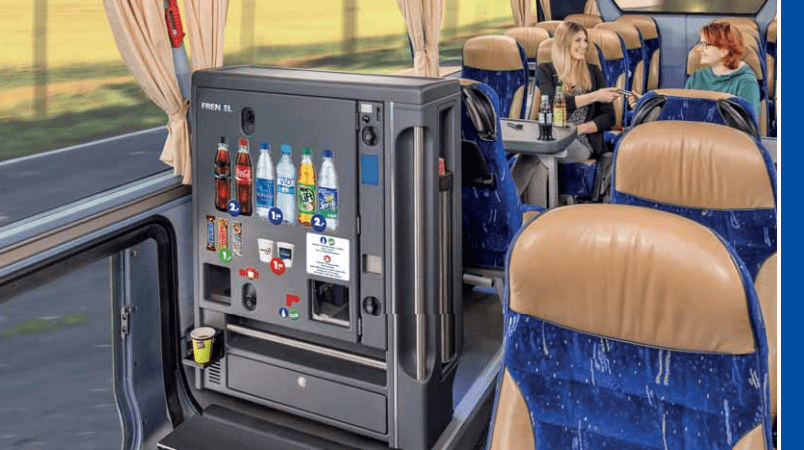 It likewise includes a 4.3" colour touchscreen which enables the individual configuration of the device. Therefore, the FOAS 160 also guarantees the happiness of both direct users and operators.
2. Aventador, the new groundbreaking Hopper by Alberici
Italian payment system manufacturer Alberici is releasing a groundbreaking Hopper whose goal is to streamline the routine maintenance of these devices.   
Introduced at ENADA, this 'Aventador' coin counting unit carries out several cleaning and conditioning actions such as the removal of dust, objects or static charges on coins. The system is prepared to respond swiftly when faced with possible jams or failures. Alberici's proposal thereby extends the service life of this important piece of equipment for gaming or vending sector.  
How does it work, exactly? The operator may start the process described above by opening the shutter located on the door of the machine, and then pressing the Aventador button, without the assistance of a maintenance technician being required.
3. Personalised coffees with Button App  
While Azkoyen's hot beverage vending machines are already a market benchmark, the company has produced a major innovation in the world of smart vending, by developing a mobile application that is compatible with its machines. This app, which is available both on Android and iPhone, enables users to create their own personalised beverages, whether tea or coffee, by following a few simple instructions, thanks to the Bluetooth connection that is established between the vending machine and the mobile device.
An interesting fact is that this service can be accessed without the need to purchase a new vending machine; customers only need to update existing ones with the Button Barista Dual "Smart Ready" Bluetooth Kit, which includes a cutting-edge Bluetooth card.  
4. Greater storage capacity without loss of space thanks to Visión Agua
Jofemar's Vision Agua arrives full of "vending novelties". Among them, they have managed to increase the number of channels and storage capacity by means of an external connection to a side payment module. This improvement allows for the addition of tracks, and a special elevator with adjustable height, which means that bottles of up to 1.5 litres may be loaded without any modification to its external measurements. In addition, it adds a flexible configuration of the storage space, enabling the operator to change the position of the channels and dividers without using tools.
Likewise, it may be connected online in order to receive detailed real-time information on users and sales.
5. Dominator Curve's gaming experience
In the field of gaming machines, Novomatic, an industry leader, has launched the Dominator Curve on the market, which includes special sound and lighting components. It is a new arcade machine that manages to take the player to the next level of connection.
Among the innovations it includes, we can mention its vertical, curved 40" touchscreen, which amplifies the range of perception, and its HD resolution. The topper and the screen are independent from each other, they both work with LED technology, and it also includes a third screen on top, with 3D capabilities and a TouchDeck touch panel for greater user manoeuvrability.
The main door moves up supported on gas springs, which improves its location and handling.
6. Social networking and vending with Snapchat's "Spectacles" glasses
By means of an automatic distribution machine called "Snapbot", the Snap Inc. company, creator of the Snapchat social network, has sold –just in the United States- over 100,000 units of its Spectacles glasses, an accessory that allows users to record 30-second videos and upload them instantly to the social network in order to share them with the world.
Even though Snapbot machines do not have a significant user interaction –beyond a credit card payment panel and a lit panel that shows whether the product is loaded or not- they are, without a doubt, an important step among vending innovations. Will any competition emerge in the world of social networking?
7. Buying Instagram followers through vending machines?
In line with the concept above, vending technology has also been adopted by countries like Russia in order to go beyond social networks. The Snatap company has placed digital vendors in cities like Moscow and Saint Petersburg which allows for the purchase of followers or "Likes" on the Instagram social network. By means of an interactive screen, the user can select the packs to be purchased or even print photos.
What do you think about these concepts? Would you like to add any other machine to our list of technological novelties? CLR, manufacturer of gear motors for the vending and arcade machines, invites you to participate in our article.