CLR has a long track record in the development of displacement mechanisms in the electromechanical sector. Today we tell you about one of our latest projects on this field: an actuator for differential automatic resetting and thermal-magnetic circuit breakers in our homes. This solution comes very handy when there is a power outage and we are not home to manually turn the power back on. Would you like to know more about this interesting electromechanical solution? Then read on.
What were the main challenges of this project?
This client, a company specialised in the design and production of electronic equipment, needed to add a reliable gear motor in a very limited space. Specifically, the gear motor has to be added to a DIN rail along with the rest of the components of the consumer unit. This prompted us to work on several designs until one was found that fit perfectly.
On the other hand, CLR engineers had to keep in mind the significant regulatory limitations governing electronic equipment control, in addition to complying with safety requirements set forth by the EU on the subject.
Design was performed in collaboration with our client, using their base product and components as a reference. Thus, the engineering department developed a solution tailored to their various home thermal-magnetic circuit breaker models.
How does the differential automatic resetting work?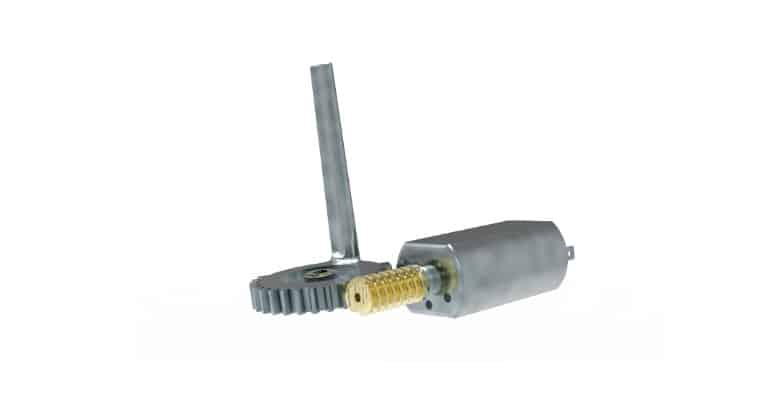 After the differential circuit breaker is triggered, the switch is reconnected following a 3 to 6-reconnection sequence (with varying time periods between each rearming attempt). In case reconnection is not feasible, the differential remains locked in 'triggered' mode until manually or remotely reset.
On a more technical note, the system includes two inputs for activation via external voltage-free signals. In this manner, the signals command the opening (input O) and subsequent closing or reconnection of the automatic circuit breaker (input I) where CLR's gear motor is located. Thanks to this, these thermal-magnetic circuit breakers offer protection against short-circuits and overloads, as well as working as a remote cut-off device.
Features of the gear motor developed by CLR
CLR's engineering team designed a gear motor with mechanical locking which could guarantee over 20,000 operation cycles (more than enough to satisfy the client's needs for the application).
On the other hand, the project complied with the highest safety demands of the sector, as well as with UL 94 plastic flammability standards.
Thanks to the good results obtained in this project, CLR gear motors are currently seeing use in a myriad of mechanisms in this field of electromechanics, both in home and industrial applications. In fact, CLR's contributions to the design of disconnection and remote rearming systems for low and high-voltage lines (up to 400A) stand out in the industrial sector. Specifically, these solutions are employed in a number of wind farms and large electrical structures.
Are you developing an electromechanical project and need a highly-specific displacement mechanism? Is your company looking for a partner that is specialised in the electromechanical industry? You may be our next success story. Contact our engineers and tell us about your project. You will discover our commitment to quality and our passion for finding the perfect motion for your idea. We hope to hear from you!