A company with a track record of over 25 years that manufactures and sells machinery for the hospitality industry aims to continuously benefit from new technological advances, while maintaining a tight relationship between quality and price for the maximum satisfaction of their clients.
As part of their product range, the company specializes in gas, electric and firewood operated chicken grills, as well as their accessories. They distribute their products not only in Europe, but also in America, the Middle East and Africa.
Client's goal: more resistant rotary cooking machinery
The client had supply issues with its current provider and could not fulfill its orders in time due to delays in deliveries.
On the other hand, in this type of machinery for the hospitality sector it is quite common for the grease or the motor to degrade due to the high temperatures that these devices are continuously subject to due to their proximity to the heat source.
Free download: Gear motors: How to choose the best one for each project
The challenge: be able to cook meals in less time without affecting safety
This type of machinery, which cooks the product as it rotates in a controlled manner, is composed of:
The burners: they provide the heat to cook the product
The needles or rods: the product is placed on them for cooking
The actuator system: the gear motor is a part of it and is tasked with rotating the product across every needle
The main challenge of this project was to increase the resistance of the machines to the high temperatures reached for long periods of time.
For this purpose, special lubricants for these temperatures were used, as well as motors with thermal protection that prevent their failure do to overheating.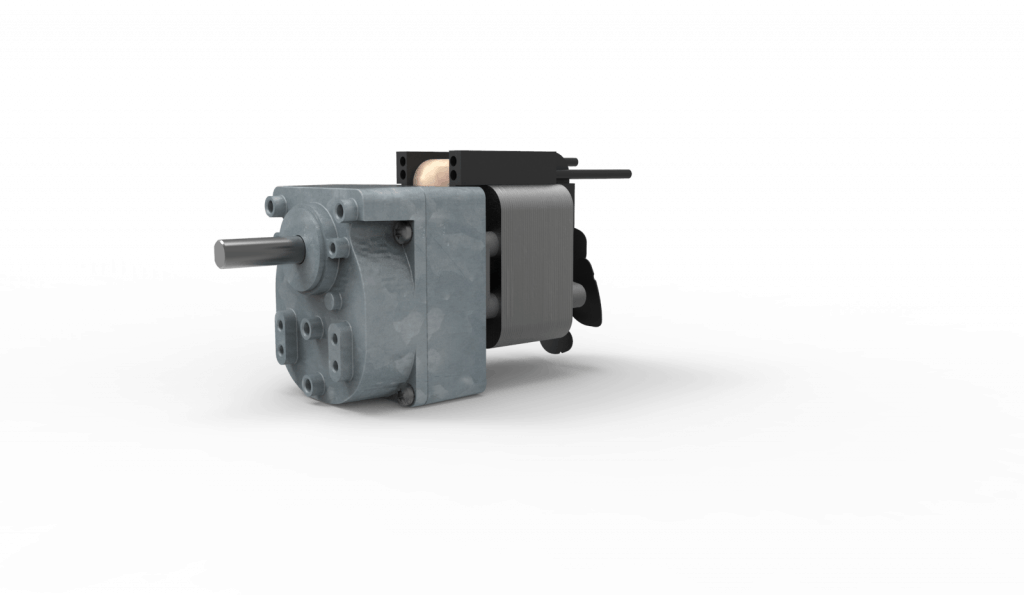 Modular cooking machine project development
CLR adapted one of its standard products to the specifications of this type of machine.
More specifically, it performed various tests in its in-house laboratory to ensure the product's service life for several hours, with the added component of working in a high-temperature environment.
The solution: prevent the failure of the motor at high
temperatures
CLR offered the client a gear motor with a temperature-based safety system that allows the system to be rebuilt after the conditions that triggered it have been exceeded.
This prevents the motor's failure and greater safety can be offered to the client against fires in the electric components.
This also helps toward getting the machines certified as per the UL standard.
The client found a provider that offers a reliable and timely service, supplying a product that meets all of the necessary requirements to offer the market a level of quality and safety that is highly important for these types of machines.